Corrosion
Experimental investigations
Hydroelectricity is a competitive source of renewable energy due to its relatively low cost and flexibility. Some Canadian hydropower facilities have been in service for over 100 years, where recent advances in erosion mitigating technologies such as thermal spray coating techniques have been responsible for the extended performance beyond the equipment's expected lifetime. While the erosion resistance of such hydraulic machinery has been improved, water contamination and infiltration can lead to severe damage and reduced operating life. In collaboration with HydroQuebec, this project will focus on studying the corrosion properties of a spectrum of engineered coatings developed to address the corrosion and erosion degradation mechanisms of stainless steel thermal spray coatings.

In this project, a titanium and niobium stabilized ferritic stainless steel with low nickel content has been chosen from an economical perspective and due to its impressive stability in aqueous environments. It is well known that stainless steel is susceptible to localized corrosion, which originates from local inhomogeneities on the micron scale that lead to local electrochemical differences at the metal's surface. Therefore one of the objectives of this project is to investigate the microstructural influence on corrosion properties of stainless steel thermal spray coatings in-situ using ultra microelectrodes and the scanning probe technique, scanning electrochemical microscopy. SECM can be used in numerous modes, where the two of particular interest to this project include substrate generation/ tip collection (SG/TC) mode and feedback mode. The micro corrosion results will be complemented with bulk corrosion measurements such as potentiodynamic polarization measurements and electrochemical impedance spectroscopy and corrosion initiation sites will be studied ex-situ.

Mathematical modelling
Methods development
Laboratory measurements of corrosion rate are extremely dependent on the environmental (electrolyte, pH) and experimental (scan rate, potential range) conditions employed. ASTM standards provide a basis for designing experiments, but do not cover all cases -- comparing experiments in a systematic way is still a major challenge in the field.

Our group uses finite element simulation to understand the effect of varying these conditions on the corrosion properties of a material in order to understand its overall behaviour. This involves describing what's going on during a given measurement: the kinetics of reaction at the surface, the diffusion of species through the solution and passive film found on many metals, and the effect of material geometry on both of these. The underlying differential equations describing these systems can then be solved using finite element software such as COMSOL Multiphysics. This is ultimately a very powerful way of looking at systems – modelling a difference in pH, temperature, or electrolyte concentration is easily accomplished .

Recently, we have developed a finite element model for decoupling the contributions of mass transfer and activation to polarization curves, a technique commonly used to examine the mechanism of reaction as well as determine both the corrosion rate and potential of a sample. This model applies to a broad material scope, including both corrosion-susceptible magnesium alloys and corrosion-resistant stainless steels.
​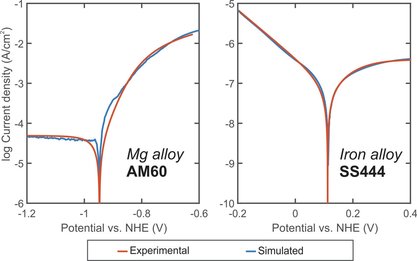 High-performance corrosion-resistant materials often make use of heavily alloyed substrates with multi-component coatings. In complicated systems of this nature, understanding the contribution of each component is crucial to understanding and predicting its behaviour. Laboratory measurements are taken over a period of hours or days, but manufacturing targets are based on performance over a period of years or decades. Bridging this gap requires predictive simulation, the accuracy of which depends on the level of detail involved.

Our group uses a first principles understanding of the thermodynamics and kinetics of corroding systems in order to predict material behaviour as a function of material composition. Recently, we have used Pourbaix diagrams as a basis for simulating the corrosion of iron-based systems as a function of potential and pH. Further objectives of this project are to build up a detailed, systematic view of a high-performance coated alloy in order to accurately predict its behaviour under a variety of conditions.
Recent group publications
5. Stephens, L.I.; Perry, S.C.; Gateman, S.M.; Lacasse, R.; Schulz, R.; Mauzeroll, J. Development of a model for experimental data treatment of diffusion and activation limited polarization curves for magnesium and steel alloys.
Journal of the Electrochemical Society 2017, 164(11), E3576-E3582.
4. Payne, N.A.; Stephens, L.I.; Mauzeroll, J. The Application of Scanning Electrochemical Microscopy to Corrosion Research.


Corrosion 2017, 73(7), 759-780.

3. Dauphin-Ducharme, P.; Kuss, C.; Rossouw, D.; Payne, N.A.; Danis, L.; Botton, G. A.; Mauzeroll, J. Corrosion Product Formation Monitored Using the Feedback Mode of Scanning Electrochemical Microscopy with Carbon Microelectrodes.
Journal of the Electrochemical Society 2015, 162 (12), C677-C683.
2. Tefashe, U. M.; Dauphin-Ducharme, P.; Danaie, M.; Cano, Z. P.; Kish, J. R.; Botton, G. A.; Mauzeroll, J., Localized Corrosion Behavior of AZ31B Magnesium Alloy with an Electrodeposited Poly(3,4-Ethylenedioxythiophene) Coating.
Journal of The Electrochemical Society 2015, 162 (10), C536-C544.
1. Dauphin Ducharme, P. and Mauzeroll, J. Surface Analytical Methods Applied to Magnesium Corrosion.
Analytical Chemistry, 2015, 87 (15), 7499–7509