Numerical simulation
Numerical simulation is commonly employed in electrochemistry to help elucidate reaction mechanisms and kinetics in electrochemical systems. It additionally provides the advantage of acquiring usable data for experimentally challenging conditions or for accelerated testing. The Nernst-Planck equation is used to describe the mass transport of species. It functions as an extension of Fick's diffusion equations to account for migration in an electric field, relevant in corrosion and batteries, and convection which dominates in flow systems.


The commonly-used finite element method works by dividing a geometry into a mesh of finite elements and calculating concentrations and fluxes between the boxes based on the equations and boundary conditions imposed on the system.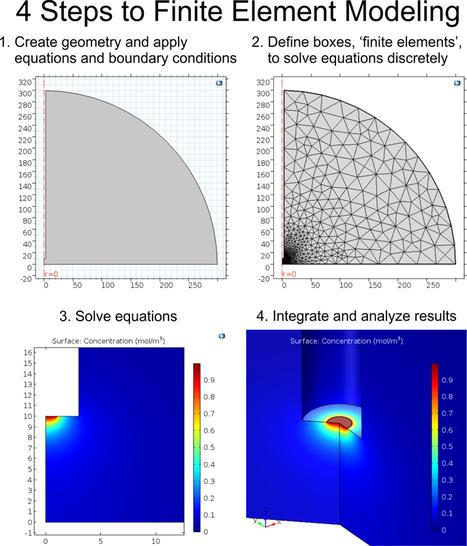 Our group uses COMSOL Multiphysics® for numerical simulation to complement our electrochemical experiments. We routinely employ simulation in our corrosion research to help analyze experimental data in the form of potentiodynamic polarizations curves or SECM approach curves and images. In addition, we have built simulations for electrogenerated chemiluminescence, flow systems and SECM measurements on porous films.

Recent group publications
4. Stephens, L.I.; Mauzeroll, J. Altered spatial resolution of scanning electrochemical microscopy induced by multifunctional dual barrel microelectrodes.
Analytical Chemistry 2018, 90(11), 6796-6803
.
3. Noyhouzer, T.; Snowden, M.E.; Tefashe, U.M.; Mauzeroll, J. Modular Flow-Through Platform for Spectroelectrochemical Analysis.
Analytical Chemistry 2017, 87(10), 5246-5253.
2. Danis, A.; Odette, W.; Perry, S.C.; Sylvain, C.; Sleiman, H.; Mauzeroll, J. Cuvette-Based Electrogenerated Chemiluminescence Detection System for the Assessment of Polymerizable Ruthenium Luminophores.
ChemElectroChem 2017, 4(7), 1736-1743.
1. Kuss, C.; Payne, N.A.; Mauzeroll, J. Probing Passivating Porous Films by Scanning Electrochemical Microscopy.
Journal of The Electrochemical Society 2015, 163(4), H3066-H3071.​