Christmas 2016
outreach award
halloween 2016
Five hours, a dremel, a soldering iron, and a stamp kit went into making this year's animated Stranger Things theme, which won first place in the departmental pumpkin carving contest. Be sure to check out the video for the full effect!
autumn birthdays!

Recent birthdays in the lab include Samantha, Janine, and Bill! They'll find some birthday treats on their desk if they can manage to make it through the wall of balloons.

Goodbye Laurence!

Best wishes go out to Laurence Danis today as she moves on to a postdoctoral fellowship at the Université de Montréal today!
welcome siba and yani!
ilias' poster presentation
A new doctor in the house
birthday celebrations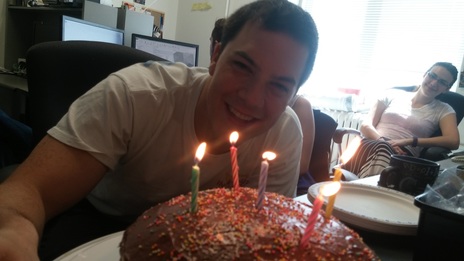 Happy birthday goes out to Lisa, Dave, and Andrew this month! Birthday cake all around!







---
award: best oral presentation

Congratulations to Nicholas Payne for winning the best oral presentation award at the 6th annual ECS Montreal Student Symposium.

nserc pgs-M

Congratulations to Lisa Stephens, who has just been awarded an NSERC PGS-M!
6th ecs montreal student symposium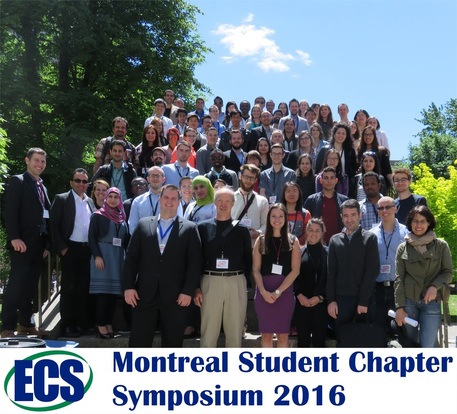 The 6th annual ECS Montreal Student Symposium was held on Friday, June 10th, 2016!
Attendees enjoyed 15 talks in a variety of fields, including invited presentations from Prof. Mickael Doll
é
(Universit
é de Montréal) and Prof. Richard Crooks (University of Texas at Austin)!
This event was sponsored by Metrohm Canada, Pine Research Instrumentation, SnowHouse Solutions, Gamble Technologies,
Centre québecois sur les matériaux fonctionnels, McGill Chemistry and Association Étudiante du Secteur des sciences de l'université du Québec à Montréal along to Post-Graduate Students' Society of McGill University.
---
2016 winter classic tournament
A week to celebrate
This week the group celebrates members past and present!
Jesse was accepted to the Massachusetts Institute of Technology and University of Texas at Austin for graduate studies in chemistry. We wish him the best of luck in deciding between schools!
Phil was awarded the NSERC postdoctoral fellowship!
Sabine was awarded the Marie-Curie postdoctoral fellowship!